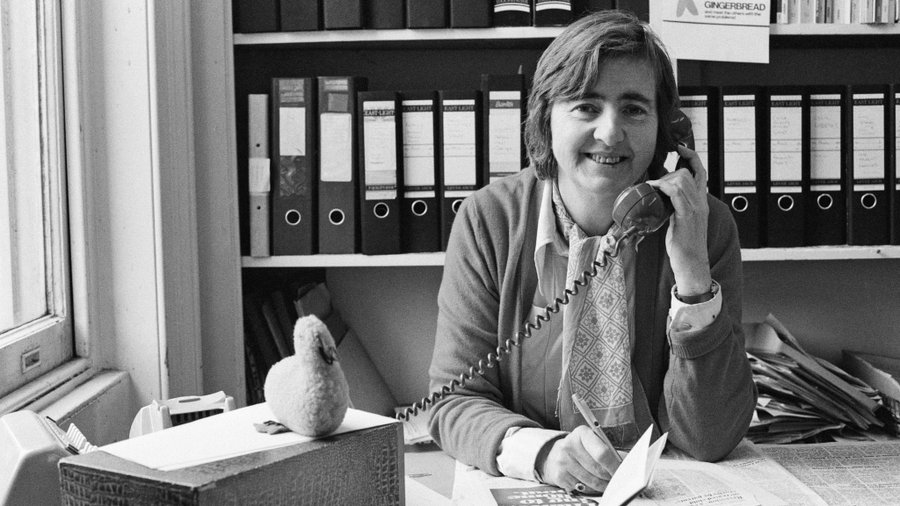 Sabrina Coghlan-Jasiewicz
The start of this year's LGBTQ+ history month has brought with it the saddening death of Maureen Colquhoun, the first openly lesbian MP in British history. She died on the 2nd February at 92 years of age, leaving behind three children and a truly impressive legacy that we must endeavour never to forget.
Colquhoun was a trailblazer, remembered not just for her sexuality but also for her pioneering work in advocating for women's rights. She was MP for Northampton North from 1974 to 1979, during which she campaigned relentlessly for gender balance, legal protection for sex workers, and access to abortion. It was during her attempts to pass the Balance of the Sexes Bill in 1975, a bill that was designed to 'Ensure that appointments to the boards of public bodies and corporations, to certain committees, panels and tribunals, and to juries and the House of Lords, shall consist of women and men in equal numbers', that she met Babs Todd, editor of the lesbian Sappho magazine and her future partner. Although the bill did not become law, her work in parliament helped to pave the way for future changes to legislation that revolutionised women's lives simply by opening up the conversation and refusing absolutely to be shut down in the face of an overwhelmingly male house (in which there were fewer than 30 female MPs). Consistently, she called out the hypocrisies of Parliament, such when in March 1975 she pointed out that no women had been called to speak for more than an hour into a debate on the Sex Equality Bill.
Colquhoun's legacy as a lesbian in politics speaks to her incredible courage, as well as her absolute commitment to campaigning for change. It was not by choice that Colquhoun became the first lesbian MP – she was outed in 1976 by Nigel Dempster in a gossip column he wrote for the Daily Mail. Despite this violation of Colquhoun's privacy and a clear attempt to weaponize her sexuality against her, she maintained in her 1980 autobiography A Woman in the House that 'there was never, not once, ever any attempt to hide our relationship, and I have always sought to give us status as a couple, for I believed it to be, as I do all gay relationships, as valid and as entitled to respect as any other relationship.' Her commitment to openness, her lack of shame for her sexuality in a society that tried time and time again to shun her, is an inspiration. Indeed, following this public outing her own party tried to deselect her in order to prevent her running as the candidate in the 1979 General Election, citing her 'obsession with trivialities such as women's rights' as the reason for this. Yet Colquhoun fought back: in September 1977 she successfully appealed the decision at the National Executive Committee, and stood again as candidate in the General Election two years later.
Although she lost her seat to the Conservative opposition, her refusal to back down, to hide, or to give up exemplifies her courage and unwavering commitment to her constituents, as well as more widely the women of Britain. Colquhoun saw her role as a parliamentarian as specifically to implement legislation that would make equality for women a legal reality rather than the mere lip service she had seen throughout her life. She recognised the need for legal protection for women and fought unwaveringly for it. One of her final acts in Parliament was to introduce the Protection for Prostitutes Bill in March 1979. Even in her speech introducing it, she affirmed her radical feminist views by stating that 'I do not hide the fact that I believe that all prostitution laws must be abolished, but the amendments are an attempt at this stage to put injustices right quickly'. After she lost her seat, she continued to work as an assistant to several other Labour MPs, and she served as a member of Hackney London Borough Council from 1982 to 1990. Eventually, she moved to the Lake District with Todd, where she remained active in the community until her death.
To remember Colquhoun only as the first lesbian MP is to severely overlook her extensive and impressive work in advancing women's rights in Britain. She will be remembered for her outspokenness, her courage, and for her unwavering commitment to her beliefs of equality in the face of great opposition. Although the Bills she brought to Parliament did not pass, her work ensured that vulnerable women were not forgotten – she gave them a voice.
Image credit: Queer Britain via Twitter